Spring purse
Created fromthe easy envelope purse pattern
A gift for a special lady.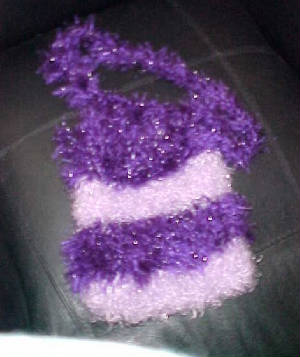 A special bear for CGOA.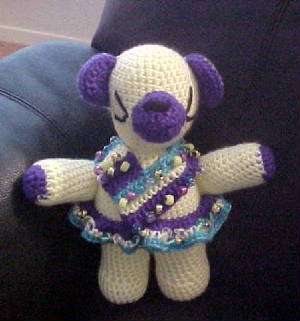 Yellow tote adapted from a Marlo Cairns pattern.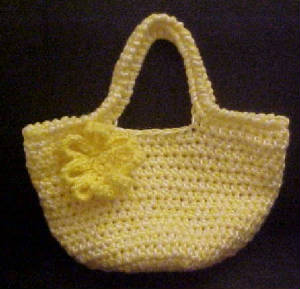 Made with yellow and white yarn and a flower of my own creation.
Almost complete purse made with Patons allure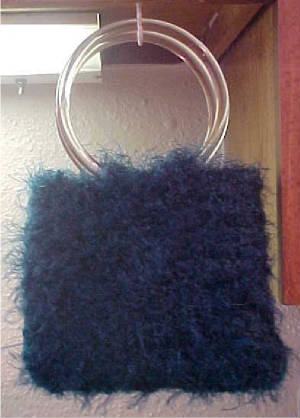 Baby set for my principal's new baby. Crib blanket, car seat blankie and hat to match.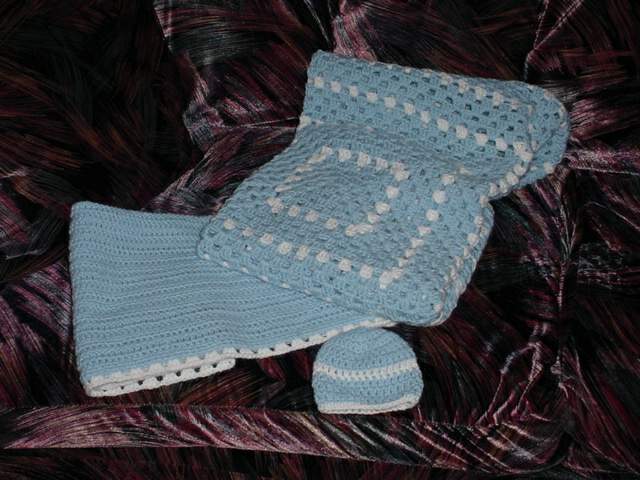 Retro purse and cell phone case for gift exchange at Valley Forge, made of Paton's Divine, Moda Dea Wild and Moda Dea Dream.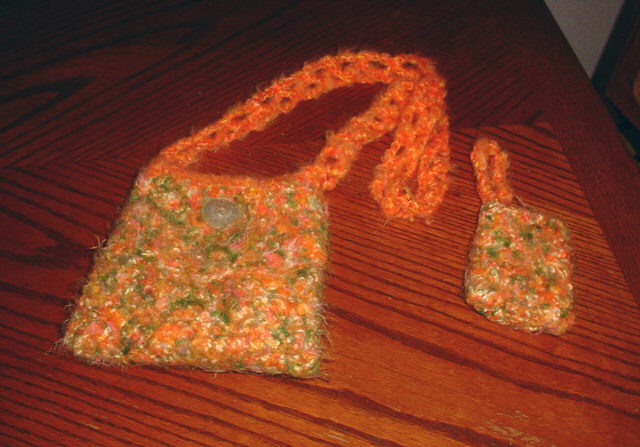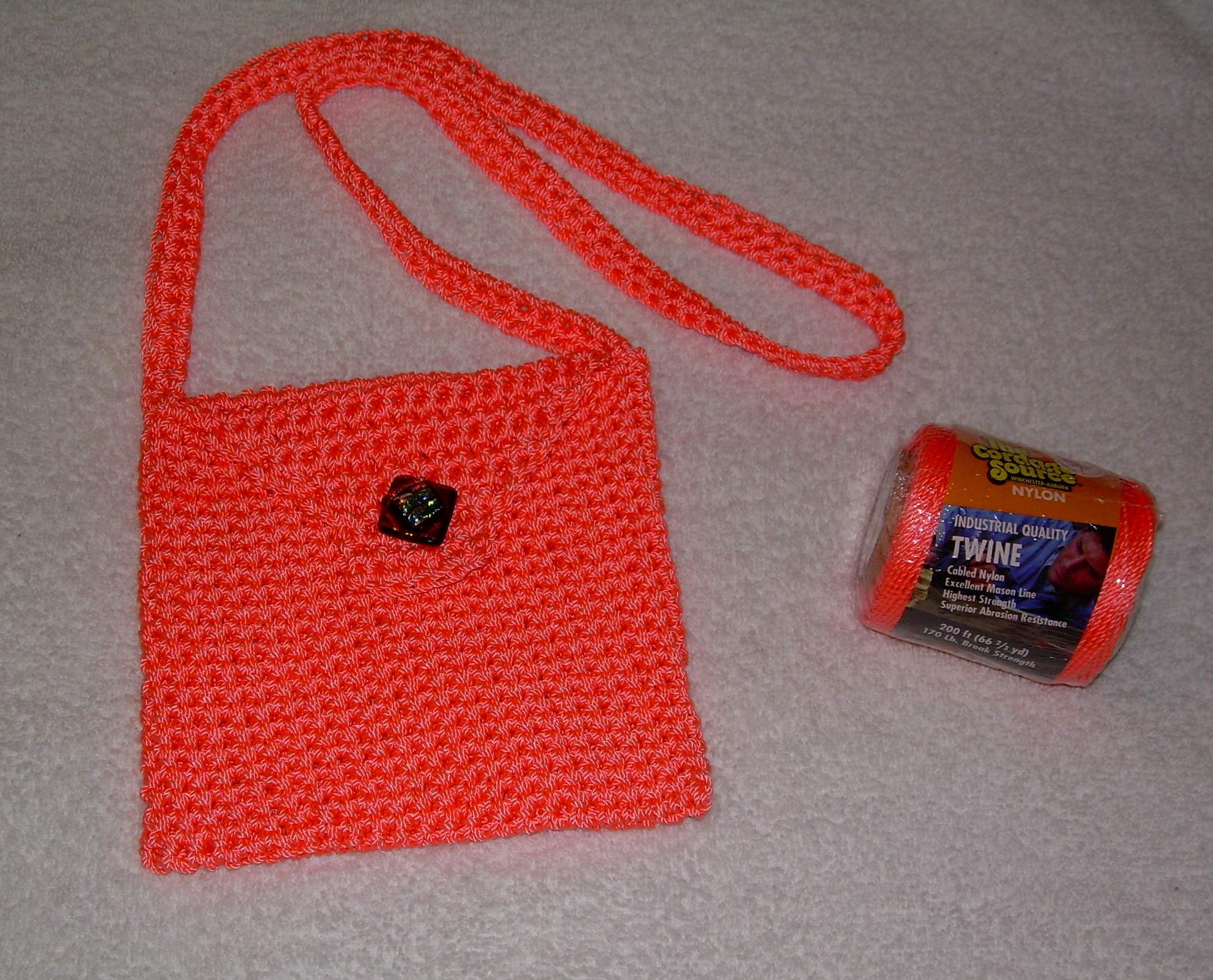 I made this purse at the CGOA conference with nylon twine I got while visiting my roomie in Ohio. The button was purchased at the yarn market- I love glass buttons!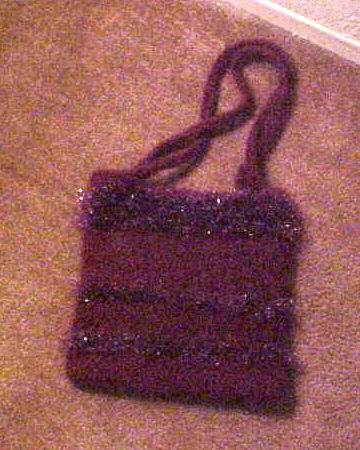 This felted tote bag is made from Lopi yarn from Iceland and Trendsetter yarn "Aura"- it sure sparkles!!
Simple Beaded Purse
© 2006 Carole Fitzgerald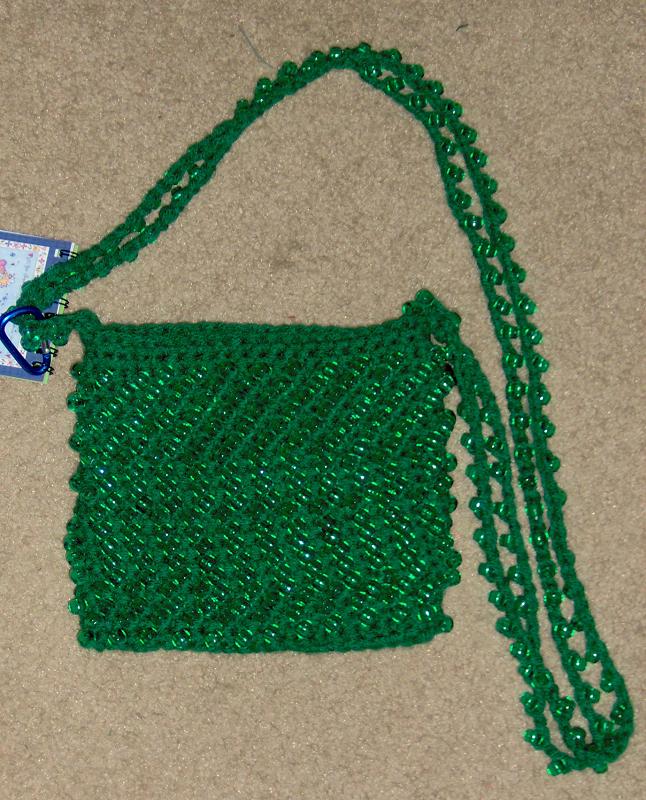 Materials needed: Red Heart Super Saver yarn, worsted weight, color of your choice, 4 oz.; size "H" crochet hook, pony beads -650. Gauge: not important, finished size approximately 6.5 " wide by 6 " tall.
Stitches: chain (ch), single crochet (sc), bead single crochet (bd sc), slip stitch (sl st).
Ch 25, sc in 2nd ch from hook and in each ch across (24 sc), continuing around to other side, sc in unused loops of chain, for a total of 48 sc.
Round 1: Sc in each st.
Rounds 2-19: *Sc in first st, bd sc in next st* around. Continue this for a total of 19 rounds. Use a stitch marker to keep track of the beginning of each round.
Rounds 20-21: Sc in each st for the final two rounds of the purse.
( Option: sc around for one round, sc 11 sc, ch 2, skip 2 sc, sc to end of round, sc in each sc and ch for the next round, sc around for final round. That will give you a buttonhole to close the purse securely.)
Purse straps: Attach yarn with sl st at one side of purse, *ch 2, slide bead in place, ch 2*, for a total of 60 beads (or less if strap is too long), finish off. Make second strap starting in same location. Sew both straps to opposite side of purse when finished. (Option: sew matching button under buttonhole to complete the purse.)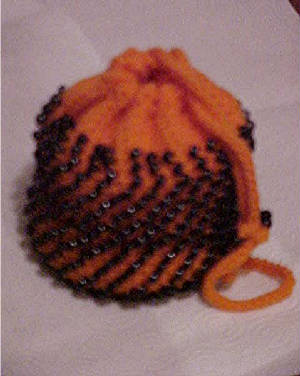 orange beaded purse created for Halloween exchange
Prairie homespun purse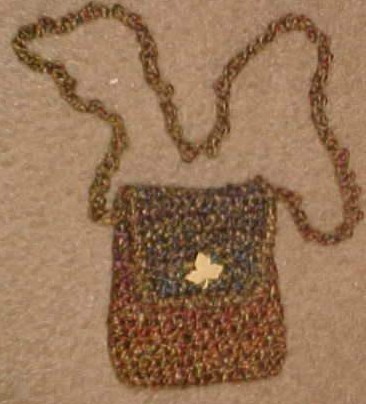 Thsi small purse was creted with leftover yarn from a Martha Stewart poncho.
Easy envelope purse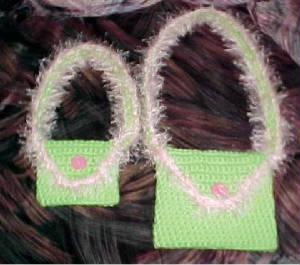 The flip flops and purse were made with a combination of moonlight mohair and homespun in the gothic color.
Matching flip flops and purse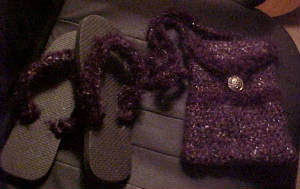 My knit and crocheted totebag was made of double-stranded Caron Simply Soft and is decorated with purple pansies from an Annie's Attic pattern book for slippers.
Crocheted and knitted -my own pattern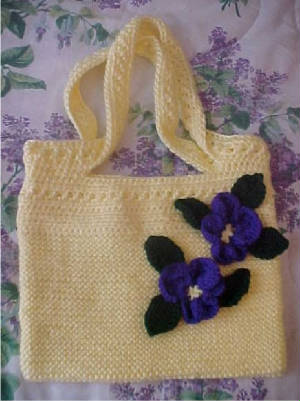 Granny comfortghan with roses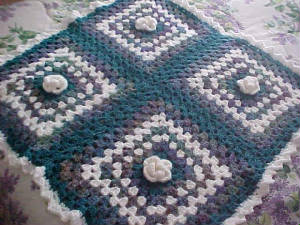 Made with Lion brand colorwaves and jiffy yarns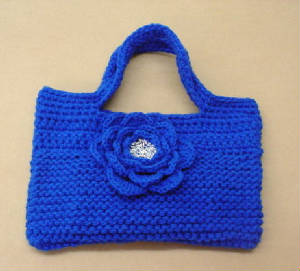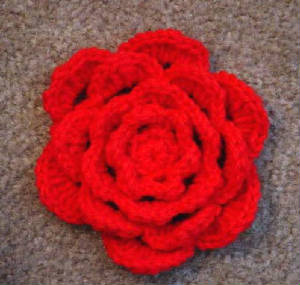 A friend asked me for help making a simple purse with a combination of homespun and fun fur. I made one along with her-it is small- 6 X 8 inches in all- but cute as can be.